Baylor's College Night will be on Tuesday, October 24th from 6:30 to 8:30 PM. The College Night will be held at The Mark and Paula Hurd Welcome Center on Baylor University's Campus - 905 S University Parks Dr, Waco, TX 76706 While it is not required for students to pre-register for the fair, if they do, they will have a barcode generated for them to share with college reps instead of filling out contact me cards. They can register by using the link below or by scanning the QR code on the flyer.
Join IHS Interact Club for Trunk or Treat during the Itasca Elementary School's Fall Festival on Wednesday, October 25th. The event starts at 5 pm along with an ESL Parent/Guardian Information night at Itasca Middle School. This is a come and go opportunity from 5-7 pm.
See attached image for the dress up days for red ribbon week this week.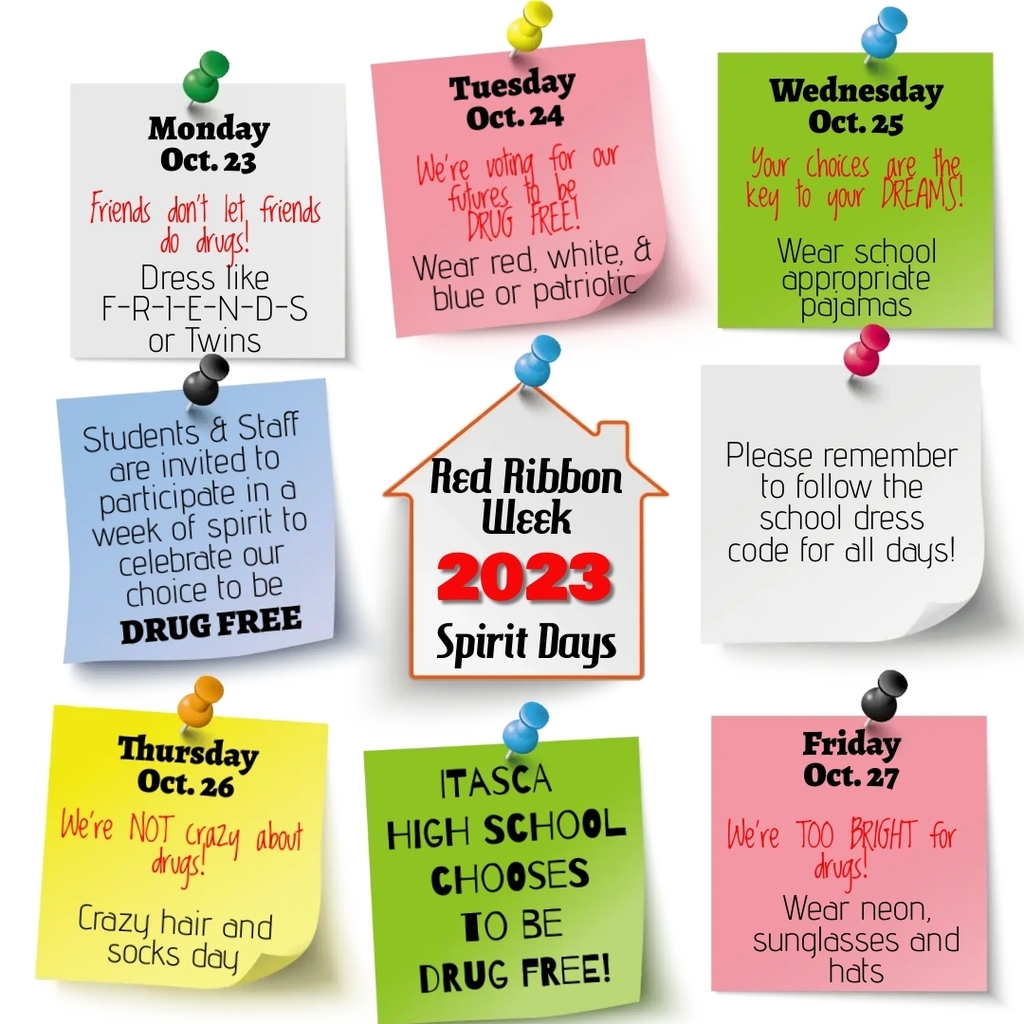 Hope to see you there!
Itasca HS E-Sports is up and running. In recent years E-Sports has grown tremendously and has a lot of opportunities to offer our students. It holds our students accountable academically and allows those who compete the opportunity to win scholarship money and be scouted by colleges for their e-sports teams as well. If you would like to help support our team please consider donating to the link below. We would like to thank you for your continued support of IHS and our students.
https://itascaesports23.groupfund.us/
Attention Class of 2024-Seniors! Monday we will be taking senior photos! We will call all the seniors down to the SEC after the photographers get set up Monday morning! Come dressed in your best! Proofs will be passed out to students in a few weeks for parents/guardians to purchase photos!
Class of 2024, here is the information for SENIOR DRESS UP WEEK!!! Senior Night will be Friday, October 20! Senior Class Dress Up Days: Monday - Model Monday (Dress your best), Tuesday - Senior Citizen Tuesday (Dress like a senior citizen), Wednesday - We're Ready Wednesday (Dress for Competition), Thursday - "Senioritis" Thursday (PJs), Friday - First Day of Pre-K Friday (Dress like you did your first day of pre-k)
Monday, October 30th. Carter Blood will be at the high school campus from 9 a.m.-2:30 p.m. Use the following link to sign up or scan the qr code on the image flyer.
https://tinyurl.com/ihsblooddrive23
Itasca FCA would like to invite everyone out tomorrow night at 6 PM to the football field for Fields of Faith. This will be a wonderful night of student involved ministry and worship. Food, music, praise and worship. Don't miss out!!
Now Taking Applications!
Itasca ISD currently has openings for the following positions:
-Paraprofessionals
-Grounds
-Teacher Substitutes
Please see our employment opportunities at
https://itascaisd.org/page/employment-opportunities
or contact us at 254-687-2922.
October is Fentanyl Awareness Month. Let's come together to raise awareness about the dangers of counterfeit pills laced with this deadly opioid. Accidental fentanyl poisoning has led to countless tragedies. Get the facts: txopioidresponse.org/fentanyl Together, we can save lives.
Save the Date 10/25/2023
SENIOR PARENTS: Baby pages for the yearbook are due this Friday, October 6th! Details below: Full page - $150.00 – message(s) and 10 to 20 pictures - *includes free yearbook; ½ page - $85.00 – message (s) and 8 to 10 pictures ; ¼ page - $50 – message (s) and 5 to 7 pictures; 1/6 page – FREE – message(s) and 1 to 4 pictures! All baby photos/messages & money (cash or check) can be turned into the front office or Mrs. Mears at the HS.
Parents/Guardians: Teacher Conferences are next Monday 10/09/23. We hope you can make it. Please contact your student's teachers if you would like to schedule a meeting with them on that day. I also want to let you know that we will have a few breaks, the first is from 11:30am - 1:15pm for lunch and a training. The other is from 5:00pm - 5:30pm for a Title 1 presentation for parents/guardian of high school students in the high school in room 15. Mrs. Brown will also be hosting 3 Journey Through HS sessions. See the image for more details.
Parents and Guardians of Middle School students, Report Cards were handed out Thursday 9/28. The students were encouraged to take them home and get them signed by a parent. Parent copies are getting mailed Friday 9/29/23. Thank you. Go Cats Go!
Proud of our student athletes!
Itasca Wampus Cats - Rivalry Week and Pink Out! October 2-6. Monday - No School, Tuesday - BBQ Dads & Soccer Moms, Wednesday - Favorite Jersey Day, Thursday - White Lie T-Shirts, Friday - PINK OUT!
FCA would like to invite all who want come to join us for See You At The Pole tomorrow at 7:15 AM. See You At The Pole is student led prayer time giving students a chance to pray for their school, town, our nation. We hope to see you there.
Fall Picture Day is on Thursday, September 28th! If your child does not have a picture order form, you may purchase pictures online at Lifetouch using Picture Day ID: EVTJVSPCM. Also, students will receive a proof in a few weeks to order from, as well! No class photos will be taken this day- only individual student & staff! If you have any questions, please email Mrs. Mears at
kmears@itascaisd.net
!