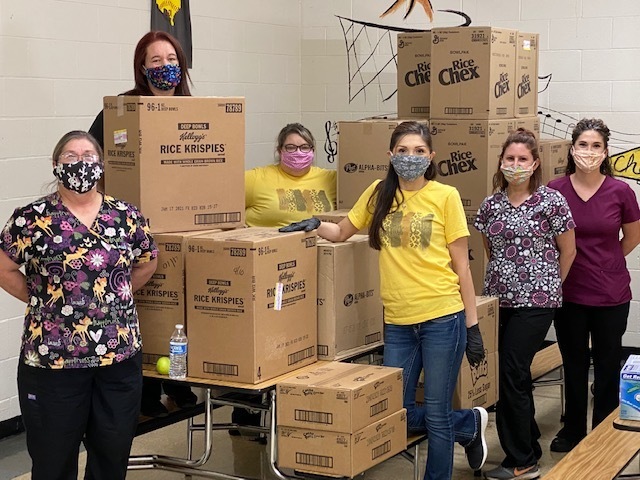 Meals to the Rescue!!!
Mark Parsons
Thursday, April 16, 2020
Since the outbreak of COVID-19, schools across the state of Texas have been working extremely hard to provide continued academic support to the children they serve. Although the daily routine may look quite different, faculty and staff have been continuously planning lessons and activities to maintain instructional continuity.
Perhaps even more important, is the fact that our students need to be fed. As we have known for a very long time, learning can sometimes be the least of a child's concern if they haven't even been able to fulfill some of life's most basic needs such as food and shelter. At Itasca ISD, I am proud to say our amazing cafeteria staff has been the "backbone" to ensuring that the children of our great community do not have to worry about being hungry.
From day #1 in this COVID-19 era, our cafeteria team devised a plan to continue the same food service we are able to provide during a normal school day. With the additional help from the Texas Education Agency and the Texas Department of Agriculture, our food delivery program has been able to flourish allowing us to feed some 225-250 each day.
A typical week for these ladies starts on Friday mornings when they arrive at 6:00 am to unload the food delivery truck for the following week's meals. Then they begin preparing six meals for Monday's delivery which includes three breakfasts and 3 lunches that will last students Monday-Wednesday. On Monday, they will start back up at 6:00 am again and begin bagging/boxing meals and loading down coolers with milk that get loaded among six buses to make home deliveries. Next, they help with onsite pick up from 8:00 am -10:00 am and then finish up the afternoon preparing meals for the following Thursday, where it all happens again for the remaining two days of the school week.
Many others have also volunteered their time throughout this food service program, including bus drivers, maintenance, grounds, housekeeping, teachers, administrators, and paraprofessionals throughout the district. It has definitely been a team effort!
When I asked them what they would want the students to know their responses were, "let them know we miss them, love them, and hope to see them all soon!"
PROUD TO BE A WAMPUS CAT!!!