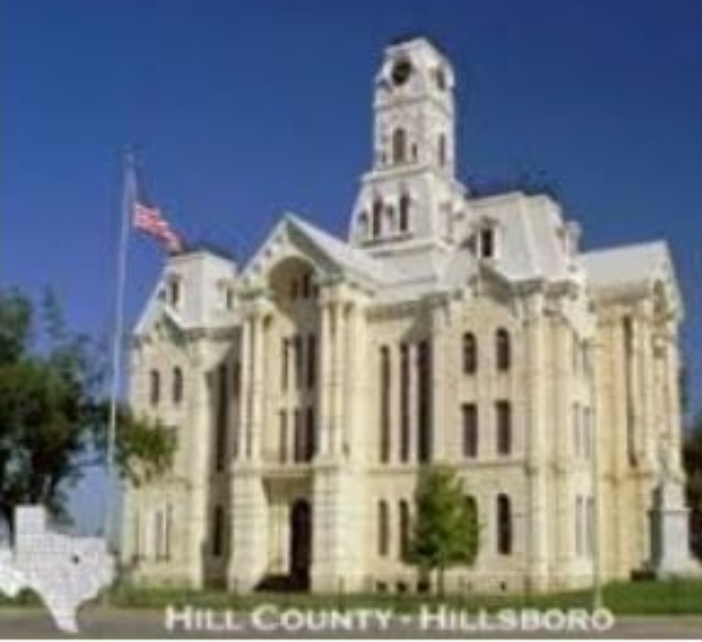 HILL COUNTY UPDATE 3/27/20
Mark Parsons
Saturday, March 28, 2020
Justin W. Lewis HILL COUNTY JUDGE
P.O. Box 457 (254) 582-4020
Hillsboro TX 76645 countyjudge@co.hill.tx.us
Date: March 27, 2020 - For Immediate Release
Press Release
Hillsboro, TX – While the Department of State Health Services (DSHS) does not yet show a confirmed case of COVID-19 in Hill County Hill County's local Health Authority has received confirmation of the first case of COVID-19 within our county. The Department of State Health Services (DSHS) has reported 1,731 cases in Texas with 23 deaths occurring. The DSHS has a dashboard website for following the spread of Coronavirus across Texas. To track information over the weekend, please visit https://dshs.texas.gov/coronavirus/.
"As we have been saying all week, we knew Coronavirus was in our area, and it was only a matter of time before we had a confirmed case," said Hill County Judge Justin Lewis. "Staying calm, continuing to practice social distancing, washing your hands and staying home except for essential functions are still the best defense we have," continued Lewis. "We will continue to keep our residents informed to the best of our ability, but I want to stress to everyone to please choose your source of information wisely, because there is a large amount of information out there that is inaccurate and makes a scary situation even worse. New information will be available to me on Monday, and Hill County will issue our next official update then, unless there is a major change over the weekend,"
As testing capabilities increase, the number of positive results is expected to grow. Texas, as well as the rest of the United States, is still in the acceleration phase of the pandemic meaning we have not yet peaked in the total number of new cases reported daily. Community mitigation efforts continue to be essential to slow the spread of the Coronavirus and keep our healthcare system from being overwhelmed. To support our healthcare professionals, it is also important to remember individuals are urged to call ahead if you are seeking medical treatment for the virus or other issues. You can receive instructions on any changes to their intake process in response to the Coronavirus outbreak to help protect yourself and others.
"In a situation like this, it is important to be monitoring your mental health as closely as you are your physical health," said Lewis. "Restricted activities and a lack of social interaction can take its toll. We encourage everyone to check on your neighbors, exercise, keep a healthy routine and get plenty of rest to maintain your mental health, but if this begins to take a toll, know there are resources available."
According to the Heart of Texas Region MHMR, Intense feelings during a disaster like this pandemic are to be expected. Depending on their situation, some people may develop depression, experience grief, and anger, turn to drugs and alcohol, and even contemplate suicide.
-more-
The signs of serious problems include:
• Excessive worry.
• Frequent crying.
• An increase in irritability, anger, and frequent arguing.
• Wanting to be alone most of the time.
• Feeling anxious or fearful, overwhelmed by sadness, confused.
• Having trouble thinking clearly and concentrating and difficulty making decisions.
• Increased alcohol and/or substance use.
• Physical aches, pains, complaints.
If these signs and symptoms persist and interfere with daily functioning, it is important to seek help for yourself or a loved one.
The Heart of Texas Region MHMR has provided information on how individuals can seek assistance. You can call the Disaster Distress Helpline at 1-800-985-5990 or text 'TalkWithUs' to 66746 for access to immediate counseling for anyone who is seeking help in coping with the mental or emotional effects caused by developments related to the coronavirus pandemic. The Helpline is a 24-hour-a-day, seven-day-a-week and free resource that responds to people who need crisis counseling and support in dealing with the traumatic effects of a natural or human-caused disaster. The Helpline is sponsored by the Substance Abuse and Mental Health Services Administration (SAMHSA). Helpline specialists are trained to assist callers who have a range of symptoms.
People interested in monitoring updates from Hill County on the situation will find the most current information on the Hill County Emergency Management Facebook Page. The County will also provide regular updates to KHBR 1560 AM Radio and the Hillsboro Reporter.
In addition, the County has an emergency notification system. If you would like to receive phone call, text or email updates as warranted, you can register with the Hill County Emergency Notification System. Visit the Office of Emergency Management website at www.hilloem.com, scroll to the bottom of the home page and click on emergency alerts. Follow the prompts to set up your account.