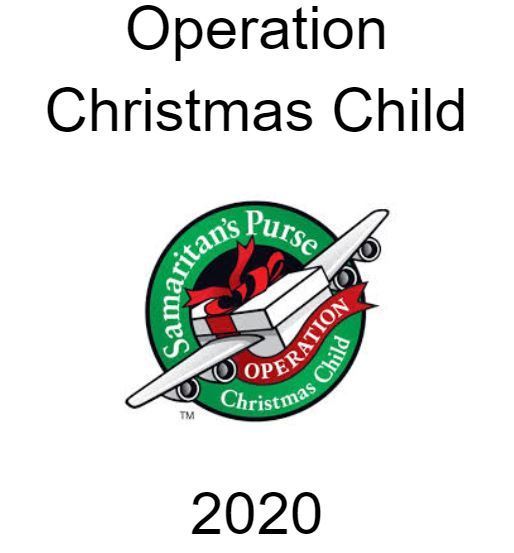 Operation Christmas Child 2020
Mark Parsons
Friday, January 10, 2020
In an effort to grow our relationship between school and community, please help us spread the work on "Operation Christmas Child 2020". This project will allow school and community to work together collecting items for needy children around the word. This is a project sponsored through Samaritan's Purse International Disaster Relief, and more information can be found at https://www.samaritanspurse.org/what-we-do/operation-christmas-child/.
Each campus will serve as a hub for donations, so please feel free to make donations throughout the year!
Operation Christmas Child 2020
January

Small Toys: Balls, Dolls, Stuffed Animals, Jump Rope, Cars, Sling Backpack, etc.

February

Bars of Soap and Washcloths

March

Flip Flops or Slides

April

Sturdy Plastic Cups (NOT solo)

Toothbrushes

May

Plastic Totes (Shoebox size) w/ locked handles if possible

June

Comb, Brush, Hair Ties

Hats or Visors

July

Socks and T-Shirts

August

Pencils and/or colored pencils w/ sharpeners, Colors

September

Coloring Books, Sticker Books, Activity Books, Word Searches

October

Catch Up Month:Items TBD

?

November

Packing Party

December

Children Receive Boxes!
Each campus will collect for the following age group of students:
Elementary: 2-4 & 5-9 Middle School: 5-9 & 10-14 High School: 10-14 & 2-4
*Calendar year-long opportunity to bring community and school together for the purpose of providing needy children from around the world with shoe boxes filled with toys, hygiene products, school supplies, etc. during the holiday season*
DO NOT INCLUDE
Candy; toothpaste; gum; used or damaged items; war-related items such as toy guns, knives, or military figures; chocolate or food; seeds; fruit rolls or other fruit snacks; drink mixes (powdered or liquid); liquids or lotions; medications or vitamins; breakable items such as snow globes or glass containers; aerosol cans.
Thank you in advance for your participation, and..... GO CATS GO!!!