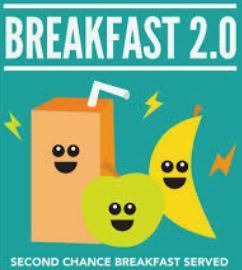 2nd Chance Breakfast Update
Mark Parsons
Tuesday, August 27, 2019
Second Chance Breakfast Updates
Itasca High School
Starting 8/28/19
Students, faculty and staff,
Thank you for your participation in our new second chance breakfast program thus far, it has been a big success! After two days of service though, we have identified a few changes that we need to make in order to best serve the needs of the student body.
First, we will move to one location in the freshman commons area, and split our serving lines. One line will be specifically dedicated to a la cart items only, and the second line will be for a full tray/meal only.
Second, a la carte items will only be sold with "cash in hand", and not available to utilize your prepaid account, although full trays/meals can utilize your prepaid account or be purchased with cash if your account is empty or you simply want to purchase another full or meal.
Third, we will not have the capability to add money or check your prepaid accounts during the second chance breakfast time. Please check your accounts the day prior during the lunch period, in order to know your available balance to use on full trays/meals.
So, in review:
All meals will be served in freshman commons

A la carte items are cash only

Full trays/meals are served on the same status as in the cafeteria (whatever price you receive it at in the cafeteria, is the same price you pay on campus)

Additional trays meals beyond your daily allowance will cost extra and need to be paid in cash
Middle School
Starting 9/3/19
With second chance breakfast starting next week, we want to give you a few important pieces of information so that we can best serve you.
All 7th/8th grade athletes and PE students will have a second chance option to eat a full breakfast in the cafeteria near the end of first period, as the coaching staff brings you over from the gym.
When the bell rings for second period, 6th graders will have an opportunity to get a full breakfast in the commons area from their account, just as if they were in the cafeteria.
In additional, a la carte items can be purchased by all students with cash only, or purchase an additional full meal with cash if they have already received their daily allowance prior in the cafeteria.
So in review:
7th/8th graders will have a chance to eat a full breakfast following first period in the cafeteria

6th graders will have a chance to eat a full breakfast from the commons area, on the same status as in the cafeteria

A la carte items and additional full meals will be cash only