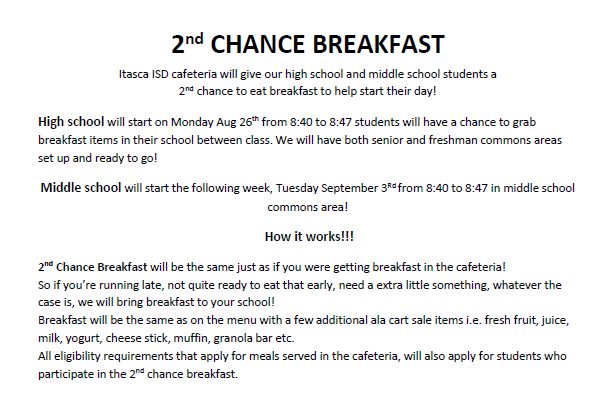 2nd Chance Breakfast
Zach Mayberry
Friday, August 16, 2019
Itasca ISD cafeteria will give our high school and middle school students a 2nd chance to eat breakfast to help start their day!
High school will start on Monday Aug 26th from 8:40 to 8:47 students will have a chance to grab breakfast items in their school between class. We will have both senior and freshman commons areas set up and ready to go!
Middle school will start the following week, Tuesday September 3rd from 8:40 to 8:47 in middle school commons area!
How it works!!!
2nd Chance Breakfast will be the same just as if you were getting breakfast in the cafeteria!
So if you're running late, not quite ready to eat that early, need a extra little something, whatever the case is, we will bring breakfast to your school! Breakfast will be the same as on the menu with a few additional a la cart sale items i.e. fresh fruit, juice, milk, yogurt, cheese stick, muffin, granola bar etc. All eligibility requirements that apply for meals served in the cafeteria, will also apply for students who participate in the 2nd chance breakfast.